Antioxidant Rich Dark Chocolate + Cranberry
83% Whole grains + Nuts + Seeds
Made from 100% Natural Ingredients
Whole grains: Quinoa, Oats and Brown Rice
Rich in Nuts and dried fruits: Almonds, Raisins, Dried Cranberries Rich in Seeds: Pumpkin, Chia and Flax
All prices mentioned above are in Indian Rupee.
This product is available at Amazon.in, Flipkart.
At amazon.in you can purchase Yogabar Wholegrain Breakfast Muesli - Dark Chocolate + Cranberry, 500g (Single Pack) for only Rs. 251
The lowest price of Yogabar Wholegrain Breakfast Muesli Combo | Fruits, Nuts and Seeds | Dark Chocolate Cranberry | 700g Each was obtained on May 2, 2023 11:25 am.

Your option sorted based on ratings are mentioned below



Dealsdhaba is a special affiliate website.

We check deals, offers, coupons across all popular ecommerce stores with price comparison, bank offers and at times with multiple combinations of coupons and bank offers to get you a deal you can't resist.

We compare prices on all websites , we sort from lowest price to highest, We put video reviews for the product , all information related to the online deal on single page

Hence helping you save time and money along with cashback offers.


This online deal blog has price statistics, price history, price tracker alert and lowest Price alert, We would request you to scroll through the end for other options for the product along with our other online deals at Dealsdhaba


Video Explainer Reviews for this product




YogaBar Wholegrain Breakfast Muesli - Dark Chocolate + Cranberry
Link to buy -https://amzn.to/2BrygAV Yogabar Muesli+ Wholegrain Breakfast Muesli - Dark Chocolate + Cranberry, 40g*10 (Pack of 10 Pouch) When we say ...
Yoga Bar Muesli Dark Chocolate Review | Muesli Benefits | Best Muesli Brand
Buy from the below links: Yogabar Breakfast Cereal & Muesli | 92% Fruit and Nut + Seeds + Whole-Grains | Super Saver - 700g https://amzn.to/2PSSL0Q ...
Flipkart Shopping online deals
Yogabar Muesli | Dark Chocolate & Cranberry | 400g x 2 | Wholegrain Breakfast Cereal with Nuts and Oats| High in Protein and Omega 3 | Gluten Free Choco Granola with Chia and Flax Seeds(400 g, Box, Pack of 2), Yogabar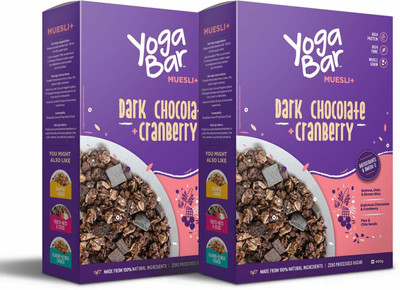 Price History
Yogabar Muesli Super Saver Combo | 400gx2 | 92% Fruit and Nuts & Seeds + Wholegrains | Dark Chocolate & Cranberry | Healthy Diet Breakfast Cereal Rich in Protein, Anti-Oxidants & Omega3(800 g, Box, Pack of 2), Yogabar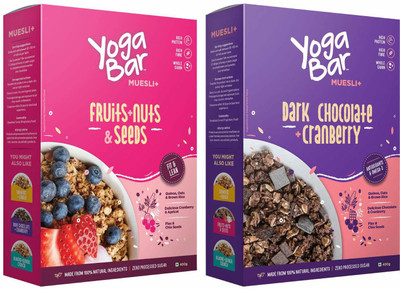 Price History
Yogabar Dark Chocolate & Cranberry Muesli(400 g, Pouch), Yogabar
Price History
Price history

Price alert


We request you to scroll to the end, you never know you might just get the best offer that you are looking for we are a #startup that is operating from #delhi #ncr #moradabad #noida #greaterNoida #bhopal.
Our main objective is to showcase the best offer to our users , by doing so they can save money in their online purchases.
We really appreciate it if you can like our facebook page or subscribe to our email alerts .
We earn only a fraction of what you pay when you complete a purchase. To keep this website running we can only request you to scroll to the end , if you like any deal or advertisement , please click on it and help us raise some money from it .
For a broader information we have tied up with Amazon india shopping , Flipkart india shopping , Snapdeal India Shopping etc as their affiliate . We can only market their product by combining them and comparing them .

About DealsDhaba #dealsdhaba
DISCLAIMER:- We are DealsDhaba,
Although we try our best to gather information about online deals +wallets +coupons combinations for you but sometimes these deals are for very short periods or short number in stock, since these online deals worth sharing for a better value for money proposition,
We post them directly on our website " DealsDhaba.com" .
You are requested to subscribe to our service via email alert on the right sidebar ,
by doing so you can remain updated with the latest deal alerts on your email.
Please use our social media channels for your queries and feedback.
Please like us on Facebook https://www.facebook.com/dealsdhaba
Use Twitter handle #dealsdhaba for deals request
Tweets by dealsdhaba
Visit Deals Dhaba's profile on Pinterest.
Join our FB Group for direct interactions
Join and Subscribe our newsletter alerts for deals updates

savemoneyonline #deals #coupons #offers #codes #amazondeals #flipkart deals
dealsdhaba #online #startup #moradabad #bhopal #delhi #ncr #mit